Stamp Camp Preparations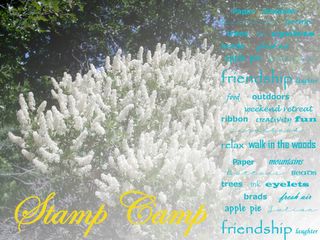 Three more days and we head up to the mountains to enjoy a fun stamp filled weekend. I don't know who enjoys it more, me or my customers. We usually start planning stamp camp months in advance. We get a general idea of what we're going to do... but it never fails to amaze me at how things just seem to fall into place. The last few days are always filled with brilliant brainstorms that add that finishing touch.
I always design a scrapbook page for the girls to use to document their "camp" experience. This year we're doing a paper bag book. I designed the book itself a week or so ago but now I keep coming up with all sorts of fun extras.
1) In one of the pockets we're putting little tags with ribbons on the end. My brainstorm? Each girl will get 8 tags to design with her name and anything she wants to write and then they'll swap the tags. How cool is that? They'll go home with a tag from everyone at stamp camp... a little mini swap.
2) I took a picture from last year's stamp camp and "embellished" it. I used a transparency fade and added words... It's my first attempt at marrying digital scrapbooking and traditional scrapbooking. I can't wait to see my printed picture to see if it works they way I have it pictured in my mind.
I have a feeling I've started down a slippery slope though... I don't own photoshop. I played with my photo in microsoft picture it. I wonder how long it will be before I "need" new software....